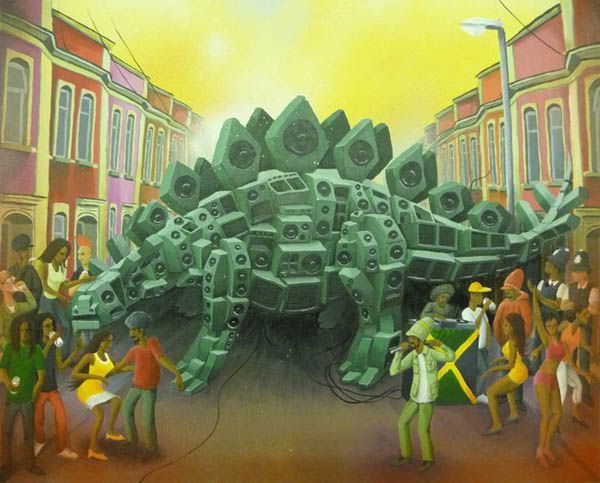 My latest Acrylic and spraypaint painting is inspired by the Saint Pauls Carnival in Bristol UK. The streets look very much like this and have huge soundsystems made up of loads of speakers...although they don't form the shape of dinosaurs.
I chose to go with a Stegasaurus this time as it is one dino that I haven't done yet. He seems quite a friendly beast and has someone patting him on the head.
The piece is also inspired by the album artwork on records by the Dub artist Scientist. They are usually cartoony and feature lots of people dancing at a party. There are coppers often in there too like in my pic. Greensleeves records also has lots of covers like this.
I kept the colour scheme very tropical, warm and Rasta. Lots of red, gold and green. The guy on the decks is alot like Jah Shakka and the guy with glasses drinking a Red Stripe was meant to be DJ Derek but looks more like a friend of mine!
The painting is on display as part of the
Inkygoodness
Hopes & Fears group show of 16 contemporary illustrators and image-makers based in and around the South West.
Features new work by
Lisa Hassell
Michelle Turton
DocVek
Andy Council
Ben Newman
Dave Bain
Seb Burnett
Paul Roberts (Themlot)
James Bourne (Themlot)
Couscous Kid
Vicky Newman (House of Aces)
Simon David Mills
Ainsley Knott
Louise Tyers
Mini Padam
Mike O'Shea
Opening times:
Fri 14 Nov (first day) 11am - 1pm
Sat 15 Nov - Wed 26 Nov 11am - 4pm daily
Thur 27 (last day) 11am - 1pm