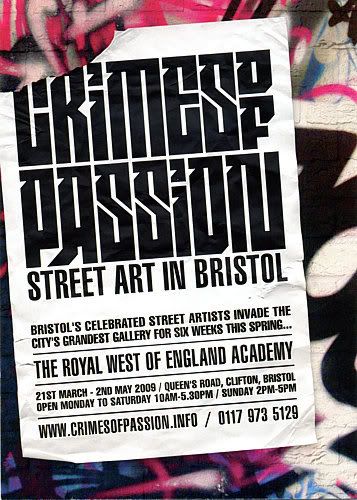 In Spring 2009 the Royal West Of England Academy in Bristol is hosting a major show of new work by the city's best known and most successful graffiti and street artists. Crimes Of Passion is the first major show of its kind in the city since the Arnolfini's groundbreaking 1985 show, Graffiti Art and is a celebration of the city's rich and diverse contemporary scene.
Crimes Of Passion takes the love of (and heartfelt dedication to) the art form as its starting point, with Bristol's leading street and graffiti artists working both directly onto the walls of the gallery and exhibiting works on canvas, as well as exhibiting threedimensional pieces and installations. The show will also include a city wide programme of large-scale painting, a film season at local arts cinema The Cube (www.cubecinema.com) and a series of painting workshops and talks run in conjunction with the local Council and schools in the city.
Bristol has nurtured many of the UK's most successful graffiti and street artists, including 3D, Inkie, Banksy, Nick Walker, Sickboy and TCF Crew, to name a few. The city continues to be a breeding ground for a wealth of exceptional creative talent and continues to have one of the UK's most diverse and thriving scenes.
The Royal West of England Academy (RWA) is one of only five Royal Academies of Art in the UK. It is a registered charity that has been self-supporting for over 150 years and possesses an outstanding Grade II listed building, galleries and permanent fine art collection. Opened in 1858, the RWA was Bristol's first art gallery.
In no particular order, artists involved in the show include: 3D, Nick Walker, Filthy Luker, FLX, Sickboy, Cyclops, Rowdy, Inkie, Mr.Jago, Acerone, Dicy, Feek, Ponk, Seza, Banksy, Xenz, Ziml, Eco, Paris, Mudwig, What Collective, Cheo, Soker, Will Barras, and Andy Council.