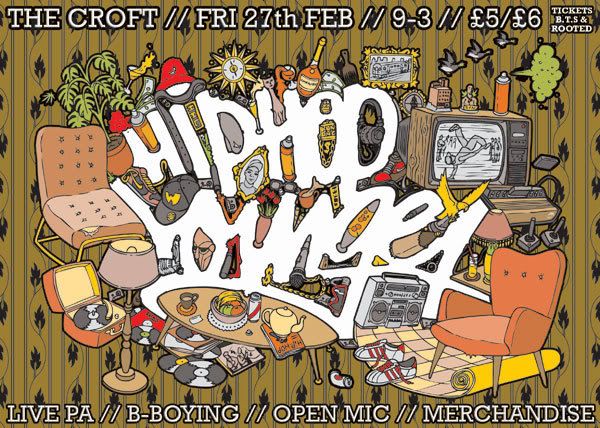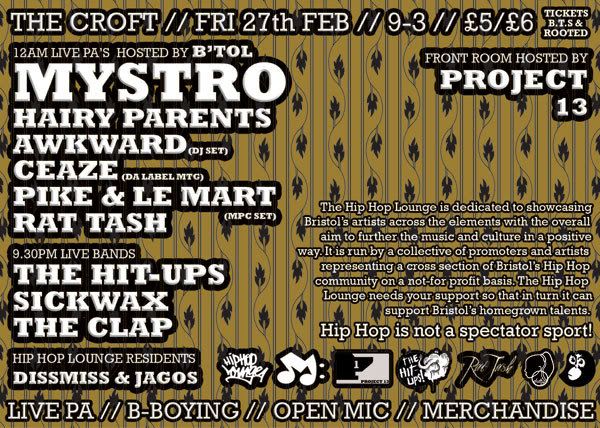 I have recently redesigned the logo for the club night Hip Hop Lounge in Bristol. Writing based around awkwards handstyle. All the objects are a combination of old granny style lounge things and hip hop stuff.
Alot of things in it are quite old skool...I have included -
Ski goggles
paint pens
spraypaint
kangool hats
adidas shell toes
Nike hi tops
courvoiser brandy
head phones
humpty humps nose
forty ounce bottle
blunts
name belt buckle
chains
ornament of west moreland house
tupac ornament that you can buy from shop on stokers
mf doom mask
base ball hat
And a load of other stuff!
The Hip Hop Lounge is dedicated to showcasing Bristol's artists across the elements with the overall aim to further the music and culture in a positive way. It is run by a collective of promoters and artists representing a cross section of Bristol's Hip Hop community on a not-for profit basis. The Hip Hop Lounge needs your support so that it in turn can support Bristol's homegrown talents. Hip Hop is not a spectator sport!
It's at the Croft, Bristol, Friday 27th February 9-3 £5/6. More infor above...