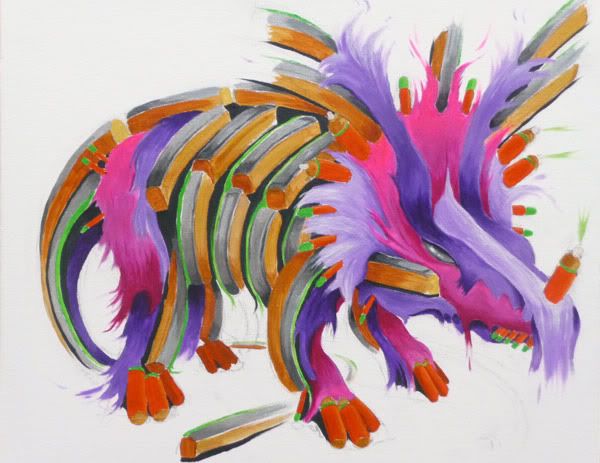 This is a work in progress pic of a new canvas I am working on - 'Styracasubway'. I have been working really hard on commission works recently, all drawn in pen and coloured on computer so it feels good to let loose with the paints. I do however get a bit edgy and doubtful when working in paints as it is going outside my comfort zone of using a pen and line work. I have to really fight the temptation to get a posca out and stick a black outline around everything.
This piece so far is of a Triceratops type beastie made up of splashes of paint and spraycans. The gold bits are going to be subway trains. I might put a little person painting the tail train that is going between the legs.
At the moment the piece has a softness to it that makes a change from hard lines, which I like. I also like the expressiveness and movement in this piece so far, but not sure if it will work out. I should really be more confident with my paintings and only show the finished works, but I would be grateful of any comments on this to help me move in the right direction.