I spent yesterday doing a spot o painting down at the Tobacco Factory in Southville, Bristol. It was a warm up for Upfest and also part of the Southbank Art Trail.
I drew up this sketch where the wall piece would be like one of my text dino's that I have been doing a few of lately.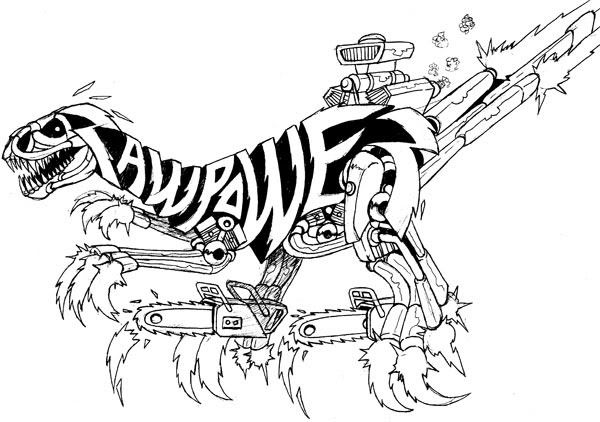 I thought it would be pretty cool to do a kind of punk rock dragster dinosaur. The text 'Raw Power' is taken from the Iggy and The Stooges album title. I used a font a bit like that of the Kiss logo. The tail, legs and arms are like motorcycle exhausts with flames coming out of them as claws. I put a couple of chainsaws in there too for good measure.
Painting the piece was a bit trickier than I imagined. The Fluro pink paint needed a coat of white under it so that it would stand out, which meant that the piece took longer to do. The space available wasn't too big either and the legs got a bit squashed. I was hoping for more space so that I could make it more painterly like my Stegocactus piece I did recently.
I ended up going for a graphic finish with outlines. It kind of works, but I'm not sure about it. It looks a bit weird like the Terminator or something from He Man. I suppose that isn't a bad thing.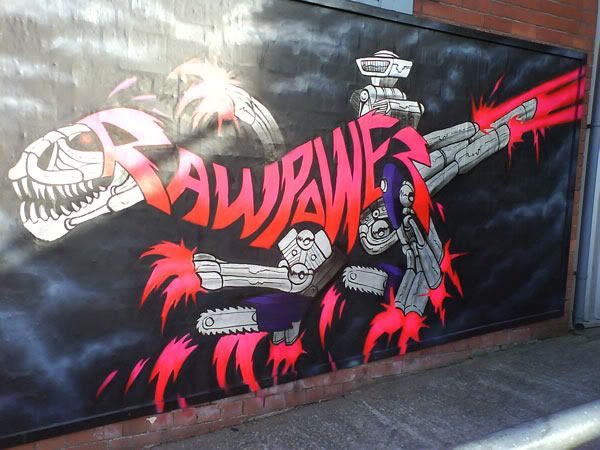 The picture is pretty crappy - only had my camera phone on me. Will try and get hold of a good un to post up soon.
Thanks to Steve, Scott, Jody, Matt, Adam, Jen and everyone else down there. Cheers for the drinks!