This is the skate deck that I have painted for the
FBBB
event. As part of the 2009 summer series, 20 of the Uk's best Urban and Street Artists have been selected to adorn a series of skate and snow boards with graphics of their own invention with boards from -
DBO - Dan Two Pence - Deus Two Pence - Faunagraphic - Rocket01 - Dirty Thirty - Andy Mould - Ventzah - Andy Council - Ill Joseph - Famous When Dead - Ben Slow - Blam - Cheba - Sri Mckinnon - Newso - Three Dee Glasses - Nik Ill - Clumsy Kate - Kev Munday
The boards are going to be displayed at all the dates of the tour at the following venues:
Braehead, Scotland
Hemel Hempstead
Snowdome, Tamworth
Skaterham
Castleford, Leeds
Snoworld, Landgraaf, Holland
Chill Factor, Manchester
Sno!zone
Milton Keynes Snowdome
Metro Ski and Snowboard Show (Kensington Olympia)
and finishing with a gallery exhibition of the boards (and hopefully more work from you guys) at the Reebok Ultralounge in Shoreditch.
Here's a close up of the chrome hot rod exhaust Triceratops...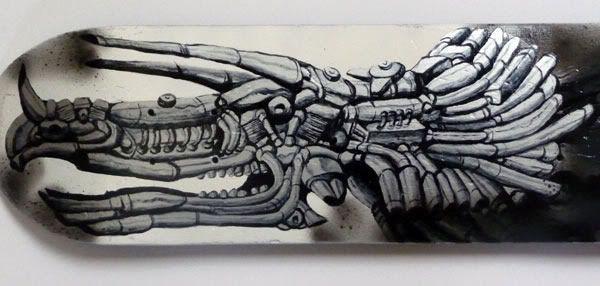 And a full lengther...

I'm really pleased with how this turned out. It's what I had in mind more when I painted the Raw Power piece the other week. It's nice and painterly and loose. Looks a bit like Giger too.