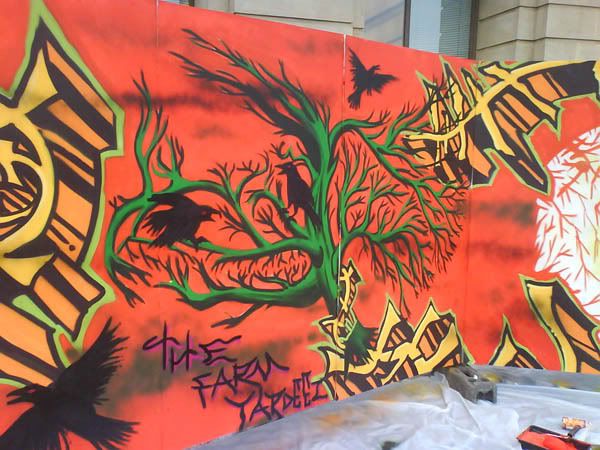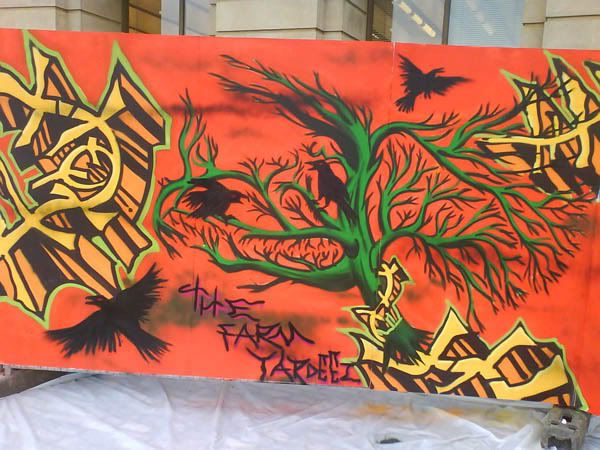 Fresh from completing work on the Horfield Skatepark project, me and my mate went and did this collaborative piece down at the Project 360 Festival in the centre of Bristol. Project 360 is a two-day extravaganza featuring some of Britain's best urban artists and urban sports people. There was loads of people skating, breaking and all sorts going on when we got there.
We decided to kind of stick with the dark theme of the skate park and did a Tree with Crows in on a blood red sky background. The tree shape is kind of based around the shape of a Triceratops skull with Crows where the eyes and nose would be. Faded out the background in a kind of bloodshot eye effect where it goes to white around other persons piece.
Was good fun, if rather tiring, going on an all day painting mission.
Other artists painting down there included - Paris, FLX, Feek, Yaka, Cheo, Hine and Dan.