I have just got back from a flying visit to Birmingham where I added my Seaside Octopus to a collaborative mural in
Urban Outfitters
with the
Them Lot
collective.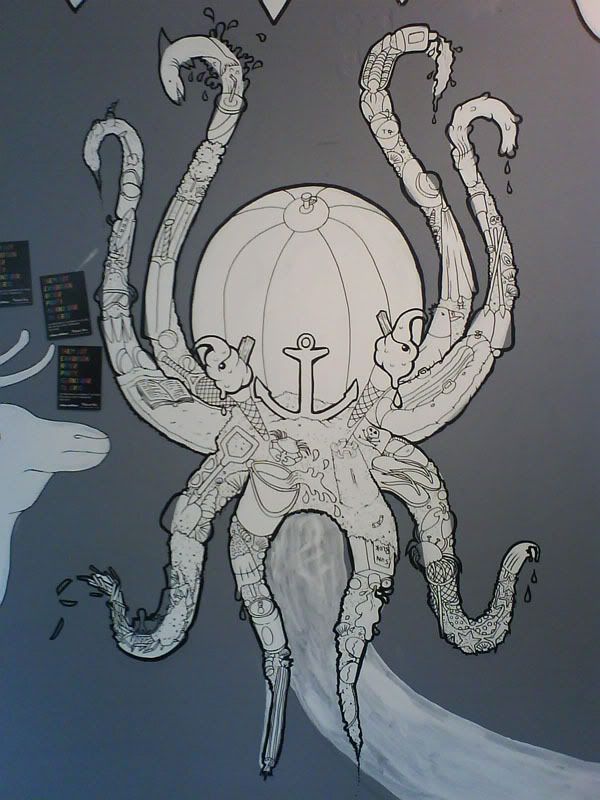 I hope to get some pics from James Bourne of the finished mural and of the opening party - shame I can't be there. Check it out if you can, here's some more info -
THEMLOT and Urban Outfitters have teamed up and will be presenting the newest works from the Art Collective THEMLOT. The opening will include live painting inside the store, and an after party to be announced.
Where: Urban Outfitters in Birmingham, UK : 5 Corporation street in the city center.
Opens: Thursday 7th August.
About Themlot:
THEMLOT is a collective of artists hailing from Bristol to Birmingham. Gathered and put together by James Bourne. Within the collective you will find examples of illustration, photography, fine art, filmmakers, muralists and monster makers.
14 different artist featured on their website, representing a wide range or works and styles.
They are James Bourne, Katie Mallon, David Shillinglaw, Andy Council, Joanne Conlon, Mark Long, Gareth Barnett, Oda Valle, Paul Roberts, Joel Peers, Bot Notley, Daniel Noon, Laurie Richardson and Nathan Chan.