I have recently finished four weeks of work being one of the lead artists on the Design and Graffiti strand of Gallery 37+. The title of the Museum mural project is 'My Perfect Bristol'. here's the blurb which explains more -
"Our new city history museum will tell the fascinating story of Bristol through many people's voices and experiences.
This artwork you see here on the hoardings has been created by a group of young Bristolians who have painted their perfect Bristol. They have worked closely with Museum staff to create images which they hope will become a real talking point.
The young artists are all part of a Gallery 37 Plus project which seeks to engage young people in the arts, giving them te opportunity to learn new artistic skills and to develop existing talents. They have been helped by two Bristol artists - Andy Council and Daniele Delmonte.
Working with the young people on the artwork is part of the new museum's commitment to work with many people across Bristol to develop a museum for everyone to enjoy.
For more information on the new city history museum for Bristol see
www.bristol.gov.uk/museums
For more informaiton on Gallery 37 Plus see
www.youthmusic.org.uk
"
There is a pic of the piece
here
and here's the feature that Bristol Evening Post did!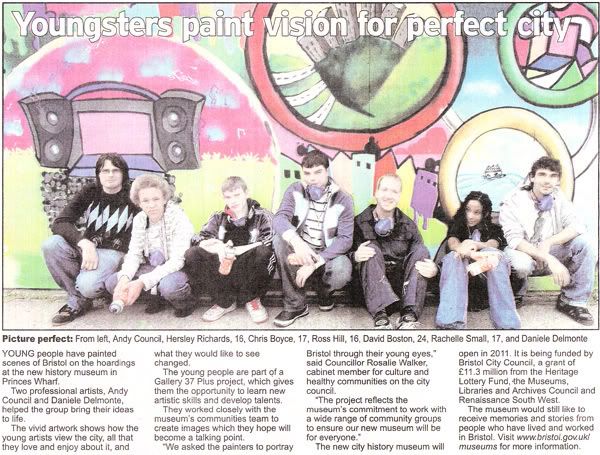 I haven't had too much time to do my own work of late as the course was full time and I was helping the Young People as much as I could with their design work. I did learn quite a few things myself along the way and got in plenty of practice with spraypaint. I did come up with a couple of sketches while doing the project that I might get up on a wall when I have time in the future. The dino lettering was inspired by guest speaker FLX's expert teaching.