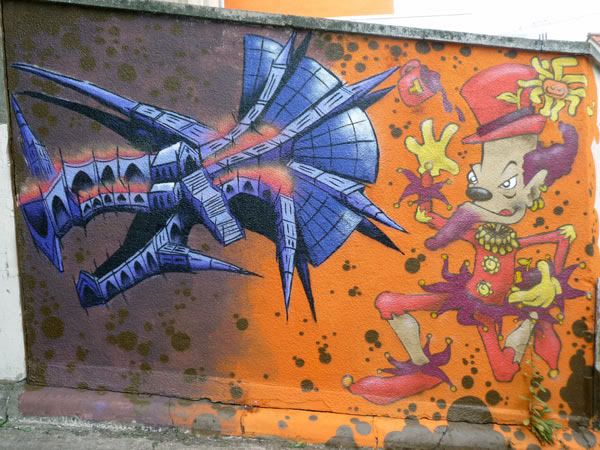 I went out and did a bit of painting today with Doodledubz as a way to end my weekk. This is what we came up with! Painted down in Colson yard is this weirdo piece.
The wall belongs to the Ethical Housing association (or something like that) and they wanted something ethical in the piece....Doodledubz started off with his clown riding a bike which is all aternative transport and that, but changed his mind and got rid of the bike. I didn't really have anything sketched out so decided to do a variation on the last street piece I painted - a Gothic Cathedral Triceratops head.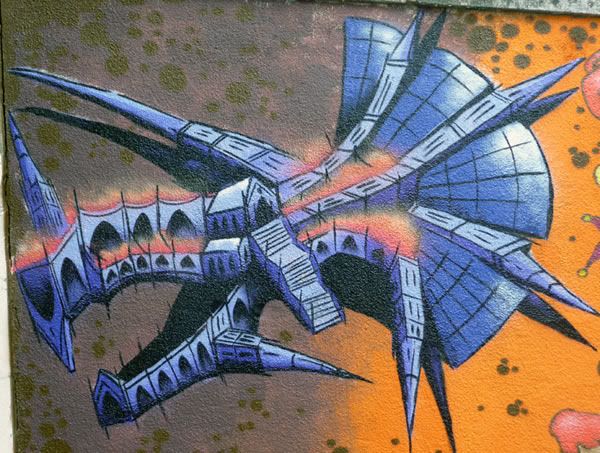 I thought that I would make it ethical, eco friendly or whatever by sticking a few solar panels into the frill and adding some trees/foliage growing in certain areas. Due to the colour scheme I chose and the way I was painting the plant life it looks more like fire! The disembodied Triceratops head looks more like a weird space station or something. Looks a bit Guy Fawkes also, as if the houses of parliament are on fire. Sometimes I don't know where I am going with all this...
Big shout out to Doodledubz who was up all the way from Devon and also to Flo, who I hope managed to fit a few bits in on this piece after I left.
Also, just to say RIP Iz The Wiz - legend.