I was really pleased to get an email from top Bristol artist
Acerone
asking if I wanted to do a collaboration piece at Upfest this year. I really like his work so of course replied that I would. Acer is a top notch Graffiti writer and photographer. In recent years he has been producing murals based around his photos of Bristol scenes at night.
We met for a couple of beers and agreed that if he got a shot with a recognisable Bristol landmark in it I could then get one of my dinosaurs made of things in there.
Acer got a good shot of the Portway in Bristol which has the Clifton Suspension Bridge in the background. I drew up this car dinosaur rushing forward to fit in the scene.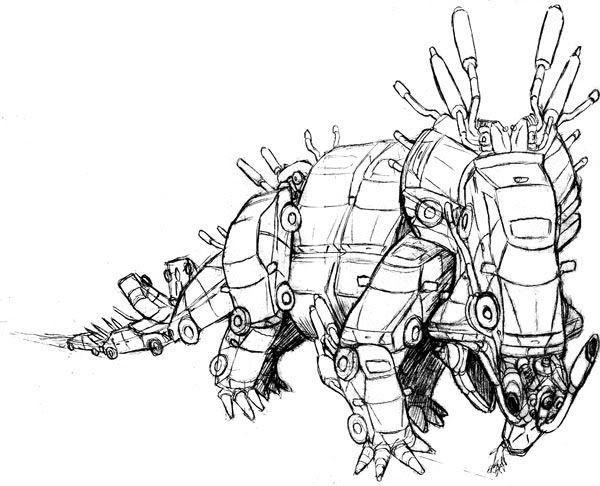 We photoshopped the dinosaur in and decided that it could do with something to the left of the scene, so I added in a little one made of engines and exhausts! We made a mock up of how it would look on the wall/boards.
When it came to painting the piece I was really interested to see how Acer works. We went down to the Tobacco Factory the night before Upfest and painted the wall off black. When it got dark Acer projected the piece onto the wall and painted out the areas that would be filled in colour with white emulsion. After that was done, still using the projector, we marked out areas of detail.
We returned the next day and worked really hard painting the piece alongside all the other artists painting that day. We used a combination of acrylic and brush with spraypaints. It was a real mash up of styles and working techniques and we think it worked out really well. Stay tuned for further collabs with Mr Acer!

All photos in this post are by Acerone.