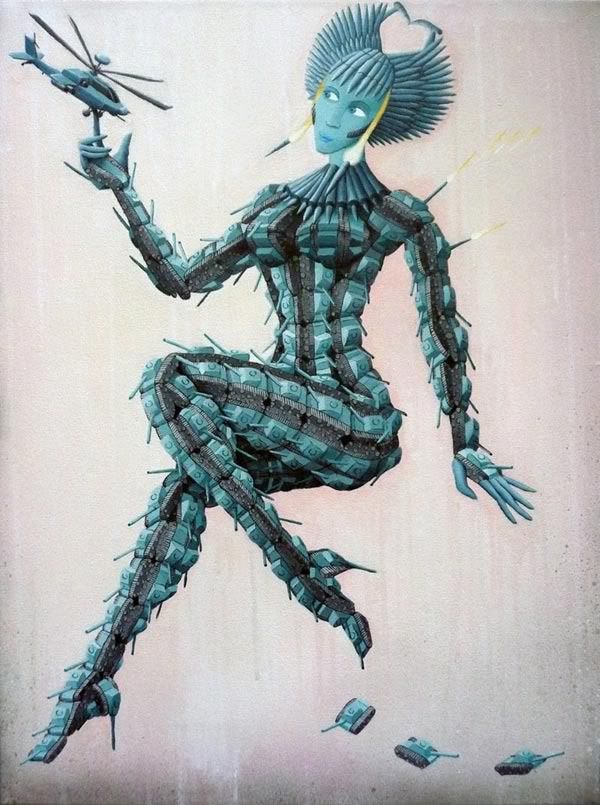 Tank Girl 1 is my latest Acrylic on canvas piece and represents a slight change in direction for me. I have decided to move away from dinosaurs for a bit and have a go at human forms made out of lots of smaller objects. Tank Girl 1 is kind of based on a cross between a Bomber pin up and Snow White. The helicopter is a bit like a little bird perched on her finger.
I'm quite pleased with how this came out. I think the face could have done with a bit more work, will be trying to get that right on future pieces that I have planned.
I would have spent a bit longer getting the face and other elements looking just right, but I ran out of time due to it needing to be boxed up and shipped over to
Bold Hype Gallery
in New York for the Strangers group show!
STRANGERS is a group show featuring new and exciting works by twelve contemporary artists and illustrators from across the country and around the globe: Adam Alaniz, Chinamike, Andy Council, Heisuke Kitazawa (pcp), kozyndan, Travis Lampe, Sean Morris, Sidney pink, Skinner, Deth P. Sun, Aiyana Udesen, and Kirsty Whiten. STRANGERS explores, challenges, and celebrates modern culture, and our ever changing place in it through vibrant imagery brimming with fantasy, wit, and absurdity…
It is brilliant that me and studio buddy China Mike got to have some work in this show alongside some awesome artists!